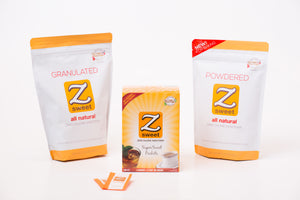 Zsweet® All-Natural Sample Pack
Regular price $40.99 Sale
NEW! We are now offering a sample pack containing one of each item for a discounted price! Read on about each of our products below:
Zsweet® SuperSweet packets are a sweeter formula made especially for coffees and teas. We use all-natural ingredients to create a healthy alternative to regular sugar. Zsweet® individual packets are a convenient way to sweeten on the go, wherever you are headed! Available as 1g packets in 100-count boxes, you won't want to leave home without a couple Zsweet® individual packets in your bag.
 Zsweet® All-natural Granulated sweetener is great for cooking and baking. It conveniently measures the same as sugar, so it can be used to replace 50% - 100% of sugar.
 Powdered Zsweet® works great in icings and frostings or anywhere else you might use powdered sugar. It also measures and sweetens like powdered sugar – one to one! Equip your kitchen with this all-natural powdered sugar substitute that tastes amazing without the guilt.