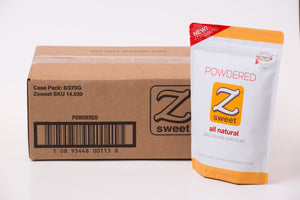 Zsweet® All-Natural Powdered Sugar Substitute Case (6 Pouches)
Regular price $70.15 Sale
Our loss if your gain! We have inventory that expires 08/22 so we are selling at a significantly discounted price! Get it while you still can!
The ideal all-natural powdered sugar substitute! Powdered Zsweet® works great in icings and frostings or anywhere else you might use powdered sugar. It also measures and sweetens like powdered sugar – one to one! Equip your kitchen with this all-natural powdered sugar substitute that tastes amazing without the guilt. Powdered Zsweet® is now available in 270g Pouch!
Zsweet® Powdered sweetener is:
All-Natural
Keto
Vegan
Free of calories, sugar, gluten, glycemic impact, and net carbs
Proudly made in the USA
Our powdered sweetener usually ships within 1 business day. It's worth the (short) wait!  
Now available to purchase a case including (6) 270g pouches for a wholesale discount!